Sept. 2013
This newspaper article was done by Hope Yancey in the Charlotte Observer's 'Community News' section.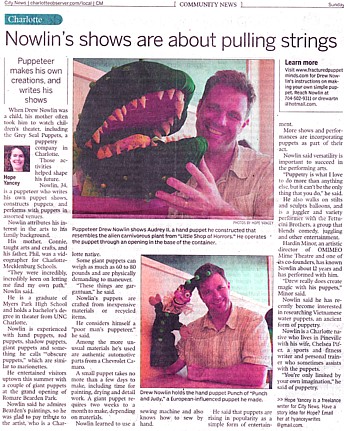 The article itself is just an interview asking about my early inspirations and whom has helped me along the way.   I, of course, gave homage to my mother and father, as well as several wonderful individuals I have the good fortune of performing with along the road of life.   This interview was due to my involvement in the Romare Bearden Park opening, but they did make one error towards the end.  My lovely wife, Chelsea, doesn't just help me sometimes…. it's an all the time in every way thing called a happy marriage.
March 2013
This editorial was done back in March of 2012, in Tryon North Carolina.
I had been asked to perform for the fine individuals at this wonderful festival they call 'Super Saturday'  The first time I experienced this wonderful event I was a part of a stage act with Hardin Minor and Steve Langley, doing a rendition of the 'Omimeo Cafe'.
Since then I have been asked back solely as a street performer, to entertain with my puppets and masked characters through the streets of downtown Tryon.  I went back in 2013 and one kind soul had a copy of last years local publication and was kind enough to give me a copy for my own personal uses. And if the cutie on the cover wasn't enough to grab my attention, the full page spread, with a certain masked dragon toting figure, on the inside certainly was (As seen below on the left).  If any local thrill seekers wish to visit this fine town and enjoy some quality performances and entertainment, I highly recommend that you put it on your calendar.