In every puppeteer's life there comes a few moments where the lines between functional puppets and stage props becomes skewed.  Some of the shows I have participated in have needed only unique prop pieces to simply add atmosphere.  Here are a few examples of such creations.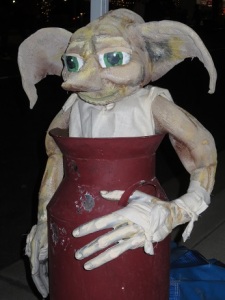 Well this character needs no introduction.  This and a few other noteworthy characters from the 'Harry Potter' saga I created for an event in Rock Hill, SC.  This came about in the previous summer of 2016 when I was delayed from one of their events by an overturned logging truck up in Virginia.  As penance for being late to a gig, I took it upon myself to create Dobby, a Dementor, a Pixie, and a Death Eater outfit for myself so I would entertain the ice skating patrons at their outdoor rink during the winter season.  Dobby is polyfoam that is wonderfully sculpted and molded with a burning tool.  Then I covered him with silicon to provide a very real skin.  I took a lot of chances on this particular piece and I'm very proud of the result.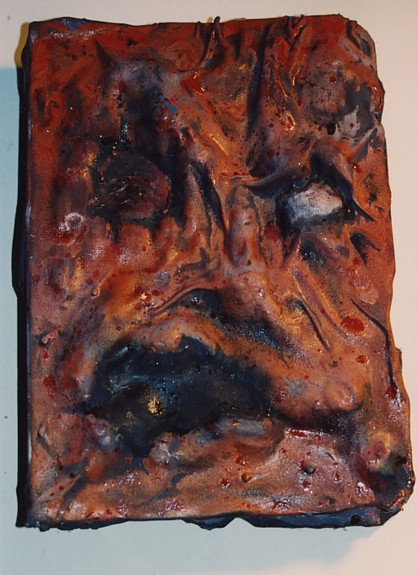 This particular piece is the 'Necronomicon'  from the Actor's Theater of Charlotte's production of 'Evil Dead: The Musical'.  This remarkable and yet disturbing prop is simply a slab of styrofoam with a binding of cardboard.  The cardboard was covered with a stretch fabric then a layer of latex was applied to give the texture and look of human skin.
Another rather unappealing creation was this one.  A giant hog's head that was to be used in a performance where a farmer brings it home and … get this … removes one of the eyes and it squirts a viscus liquid into the audience.  I didn't write the script, I just made it happen.  The frame was made of wood, covered in polyfoam.   Then a paintable caulk was administered and smoothed to give a skin texture.  The eyes were made out of squeeze bulbs set inside the socket of foam and secured, until needed, by an eyelid made of fake leather.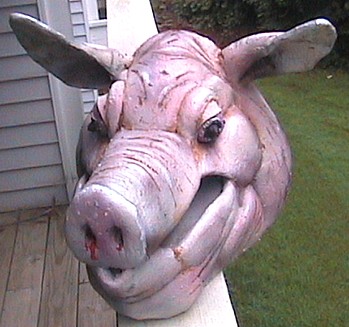 There are always new props being made, so please come back and hear a few more strange tales.  Thanks!!